Little Orphan Animals
Welcome to Little Orphan Animals. Loving, caring and adopting for 25 years!
We are a non-profit, no-kill animal rescue group, serving homeless animals in our community since 1993. Our volunteers do everything from cleaning & feeding, fostering, fundraising, vet runs, adoptions, manning our thrift shop and administrative work.
Please help Ginger! Check our "Ginger needs you" tab!
CAT ADOPTION WEEKEND! Our upcoming adoption days are Saturday 10/6 from 12noon-3pm and Sunday 10/7 from 1-4pm and Saturday 10/20 from 12noon-3pm and Sunday 10/21 from 1-4pm and by appointment. Our adoption center is located at 400 Main St. Peekskill. Follow the Bear Mt. Pkwy to the Main St. exit, make a right and we are at the bottom of the hill. Great cats from under one year and up and two lovable special needs cats looking for their forever homes. Check our website for pics www.littleorphananimals.mysite.com.
MARK YOUR CALENDARS! OUR NEXT TAG SALE WILL BE SATURDAY OCTOBER 13 at our thrift shop, 960 Washington St. in Peekskill from 10am-4pm. Great stuff at great prices. Come shop till you drop! 50% off everything in our shop!
PENNY SOCIAL!!! NOVEMBER 3rd at the Cortlandt Community Center. Doors open at 5pm. Penny, bonus and super bonus tables, 50/50, basket of cheer. Fun for the whole family! Come out and help support our orphans. Donations of new items are needed and appreciated. Drop off at our thrift shop, 960 Washington St. in Peekskill, open Tuesday & Thurs-Sat from 11am-4pm. Thank you!
Volunteers needed at our thrift shop! Weekdays or Saturdays. Help needed with light lifting, organizing, cleaning as well as assisting customers.
WISH LIST! (urgent need: antibacterial soft soap hand wash and wee wee pads!)
Friskies canned pate, Fancy Feast Classic canned & Purina dry cat food

Cat treats & toys!

Glad force-flex trash bags (13 gallon size)

Paper towels

Hand sanitizer

Hand soap (antibacterial soft soap)

Sponges

Floor cleaner (Mr.Clean, Fabuloso, Spic & Span, Simple Green)

Litter box scoops
THRIFT SHOP WISH LIST!

Quality items in good, clean condition (jewelry donations are appreciated!)

Shopping bags (large are appreciated)

Large garbage bags

Paper towels

Hand soap/sanitizer

Cleaning supplies (Windex, Fantastic)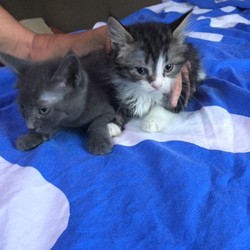 Hansel & Gretel are 10 weeks old and ready for love! Call Rose at 914-329-8672 if interested in adopting these two cuties.
Nominate LOA in Cat's Pride Litter for Good program!
For every green jug of Cat's Pride Fresh & Light bought, Cat's Pride will donate a pound of litter to help shelter cats across the country. Head over to Catspride.com/litterforgood today and nominate our shelter to receive free litter - the more nominations, the more litter we are eligible to receive. Thanks for all the support!
Use www.goodshop for all your shopping needs! Merchants donate up to 6% of your purchase. Choose LOA for your charity!
Amazon donates 0.5% of the purchase price to LOA! Next time you do some shopping try the link above! Choose Little Orphan Animals, Peekskill as your charity! Thank you!