Little Orphan Animals
Welcome to Little Orphan Animals. Loving, caring and adopting for 28 years! We are a non-profit, no-kill animal rescue group, serving homeless animals in our community since 1993. Our volunteers do everything from cleaning and feeding, fostering, vet runs, adoptions, staffing our thrift shop and administrative work.
Penny Social 2022
We are eager to host our Penny Social again soon when our venue opens to the public. We have just been informed that 2021 will not yet be possible and remain hopeful for 2022. Check back in the spring for updates.
Thrift shop open. We are located at 960 Washington St. in Peekskill. Shop hours are Tuesday-Saturday 11-4pm and Sunday 12-4pm. Masks are required and social distancing rules apply. Stop by to see our great selection of items. Enjoy the friendly local shopping while helping the animals.
Thrift shop volunteers are needed on weekdays & Saturdays. Organizing, cleaning, assisting customers and some light lifting involved.
Adoption Center Open
Adoption Center -Weekday AM Shelter Volunteers Needed. Weekday morning cleaning & feeding help for our shelter cats; if you're available, able & looking for meaningful work, let us know. If you love cats and want to make a difference, please call our rescue at 914-734-2989 or email littleorphans@yahoo.com
Adoption Days are held on the 3rd Saturdays of every month - June 18, July 16 and August 20 from noon-4 PM. 400 Main St. in Peekskill. Cats are also shown by appointment. Call or email our rescue line at 914-734-2989 or email littleorphans@yahoo.com.
URGENT NEED! Friskies canned pates and shreds and Fancy Feast chunky chicken & Classic pates. Please drop at our shop or call our rescue line 914-734-2989 and we will arrange to meet you
Shelter Wish List
Urgent need: Friskies pates & shreds canned cat food

Fancy Feast chunky chicken & Classic canned cat food

Temptations & Party Mix cat treats

Pine litter pellets

Scoop-able litter

Wee wee pads

Paper towels

Glad force-flex trash bags (13 gallon size)
Thrift Shop Wish List
Quality items in good, clean condition (jewelry donations are appreciated!)

Large garbage bags

Paper towels

Cleaning supplies (Windex, Fantastic, Clorox wipes)

String price tags/stickers

Plastic gloves (size large)

Clear packing tape - urgent need!
Office Supplies Needed
#10 envelopes

Postage stamps

Scotch tape

Clear packing tape

Glue sticks

String price tags/stickers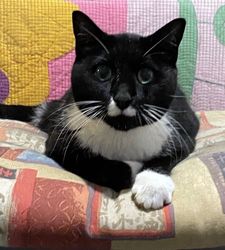 Tucker is 11 lbs of lanky adorableness. His family surrendered him when mom went into hospice care. Tucker is 13 years young -- bright, healthy, friendly and alert. This special guy is just waiting for a second chance at love. He is neutered and FIV/FeLV negative.
Use www.goodshop for all your shopping needs! Merchants donate up to 6% of your purchase. Choose LOA for your charity!
Amazon donates 0.5% of the purchase price to LOA! Next time you do some shopping try the link above! Choose Little Orphan Animals, Peekskill as your charity! Thank you!