Little Orphan Animals
Welcome to Little Orphan Animals. Loving, caring and adopting for 25 years!
MISSING since 7/13/19. Clyde, 2 year old tuxedo cat went missing from his adoptive home in the Heritage Hills, West Hill area of Somers. Please if you see/hear anything call 914-715-2390. More pictures under "lost cat Clyde" tab.
We are a non-profit, no-kill animal rescue group, serving homeless animals in our community since 1993. Our volunteers do everything from cleaning & feeding, fostering, fundraising, vet runs, adoptions, manning our thrift shop and administrative work.
Please help Ginger! Check our "Ginger needs you" tab!
Cat Adoption Days! Kittens available! 3rd Saturdays of the month - Sept. 21st, Oct. 19th and Nov. 16th from 12noon-4pm. Come see recent arrivals, help a young adult or senior cat have a chance to love again. Our adoption center is located at 400 Main St. in Peekskill (corner of Main & Water Streets). Cats also shown by appointment. 914-734-2989.
Cat Adoption Day at Pet Supplies Plus at the Staples Plaza, Crompond Rd. in Yorktown on Sunday Sept. 1st from 2-6PM.
TAG SALE! 50% OFF EVERYTHING at the Little Orphan Animals Thrift Shop, 960 Washington St. in Peekskill. Sat. 8/24 from 10-4pm. Great stuff!!
Cat Food Drive! Friskies pate, Fancy Feast Classic and dry food - Purina Cat Chow Complete. Drop off at our thrift shop, 960 Washington St. in Peekskill. Open Tuesday & Friday from 12-5PM & Thursday & Saturday from 11-4PM. Thank you!
Volunteers needed at our adoption center, call our rescue line if you can help - 914-734-2989.
Volunteers needed at our thrift shop! Weekdays or Saturdays. Help needed with light lifting, organizing, cleaning as well as assisting customers.
WISH LIST!
Friskies canned pate, Fancy Feast Classic canned & Purina complete dry cat food

Fancy Feast kitten food and KMR kitten milk

Cat treats

Paper towels

Disposable gloves

Pine litter pellets and scoopable litter

Wee wee pads

Sponges

Glad force-flex trash bags (13 gallon size)

Floor cleaner (Mr. Clean, Fabuloso, Spic & Span, Simple Green)

Soft Soap & Purell

Dawn dishwashing liquid

Cat toys
Thrift Shop Wish List
Quality items in good, clean condition (jewelry donations are appreciated!)

Shopping bags (large are appreciated)

Large garbage bags

Paper towels

Hand soap/sanitizer

Cleaning supplies (Windex, Fantastic, Clorox wipes)

Price tags/stickers
Pet Dealer exemption registration # RR307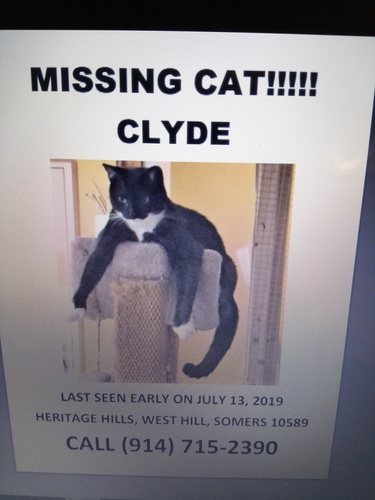 Our beloved shelter cat Clyde is missing from Heritage Hills, West Hill, Somers. 2 years old, male tuxedo, big white paws. Any info please call 914-715-2390. More pictures under "lost cat Clyde" tab.
Nominate LOA in Cat's Pride Litter for Good program!
For every green jug of Cat's Pride Fresh & Light bought, Cat's Pride will donate a pound of litter to help shelter cats across the country. Head over to Catspride.com/litterforgood today and nominate our shelter to receive free litter - the more nominations, the more litter we are eligible to receive. Thanks for all the support!
Use www.goodshop for all your shopping needs! Merchants donate up to 6% of your purchase. Choose LOA for your charity!
Amazon donates 0.5% of the purchase price to LOA! Next time you do some shopping try the link above! Choose Little Orphan Animals, Peekskill as your charity! Thank you!