Little Orphan Animals
Please note: we are currently experiencing technical difficulties with our rescue line. Please email us at littleorphans@yahoo.com. Sorry for any inconvenience.
Welcome to Little Orphan Animals. Loving, caring and adopting for 27 years! We are a non-profit, no-kill animal rescue group, serving homeless animals in our community since 1993. Our volunteers do everything from cleaning and feeding, fostering, vet runs, adoptions, staffing our thrift shop and administrative work.
Thrift shop currently closed - we hope to re-open on Tuesday Dec. 1st.
We are located at 960 Washington St. in Peekskill. Shop hours are Tuesday-Saturday 11-4pm. Masks are required and social distancing rules apply.
Thrift shop volunteers are needed on weekdays & Saturdays. Organizing, cleaning, assisting customers and some light lifting involved.
Adoption Center Open
Kittens available! Adoption Days for December will be by 1/2 hour appointments only. Social distancing rules apply. Call or email for appointment 914-734-2989 or email littleorphans@yahoo.com.
URGENT NEED! Friskies canned pates and shreds. Please drop at our shop or call our rescue line 914-734-2989 and we will arrange to meet you
Shelter Wish List
Urgent need: Friskies canned pates & shreds.

Fancy Feast kitten food and KMR kitten milk

Cat treats

Hand sanitizer

Paper towels

Pine litter pellets

Scoop-able litter

Wee wee pads

Glad force-flex trash bags (13 gallon size)

Floor cleaner (Fabuloso, Mr. Clean, Spic & Span)

Dawn dishwashing liquid

Sponges

Cat toys
Thrift Shop Wish List
Quality items in good, clean condition (jewelry donations are appreciated!)

Paper shopping bags (large are appreciated)

Large garbage bags

Paper towels

Hand soap/sanitizer

Cleaning supplies (Windex, Fantastic, Clorox wipes)

String price tags/stickers
Office Supplies Needed
#10 envelopes

Postage stamps

Scotch tape

Clear packing tape

Glue sticks

String price tags/stickers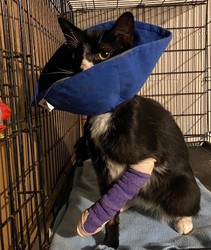 Update! Mittsy has come a long way in his recovery process thanks to all of you! Today he is bandage free and healing nicely. In the beginning he really scared us when he spiked a 105 fever and his foot was triple the size. His wound was cleaned extensively, he had stitches, bandage changed every 3 days then every 5 and 3 rounds of antibiotics. All that work did the trick. Now Mittsy's foster mom cleans his wound twice a day and applies antibiotic ointment while the wound continues to shrink and heal. Mittsy can't wait for the next check up and hopes to get the collar off soon. He wants to romp and play and give generous kisses to everyone. Donations to cover Mittsy's total medical expenses are still needed!! Mittsy came into our thrift shop needing help. He wasn't just a hungry, intact male cat, he had a severely infected abscess on his arm. He was hospitalized to get the wound cleaned, drained and stitched and get his 105 fever to break. His abscess is quite large and will take weeks to heal with regular vet visits required. The mounting vet bills are very costly for us. We need your help to get Mittsy better. Donations are appreciated! Donate through Paypal (see our "How to Help" tab) or send check to PO Box 268, Peekskill, NY 10566. Thank you!
Use www.goodshop for all your shopping needs! Merchants donate up to 6% of your purchase. Choose LOA for your charity!
Amazon donates 0.5% of the purchase price to LOA! Next time you do some shopping try the link above! Choose Little Orphan Animals, Peekskill as your charity! Thank you!