Fund for Grady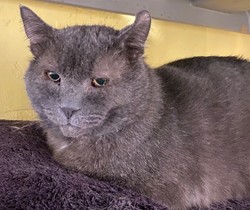 Update 4/28/21
Many thanks to those who helped support Grady's surgeries.
Grady had an excellent surgical followup and he can now live his life pain free thanks to you!
Grady, a kind and gentle old man who is learning to trust again needs entropian surgery (estimate from eye specialist office is $1,700) for eyelashes that turn inward and rub against his eyes causing them to tear with discomfort. Grady also came to us needing dental surgery for severe dental disease (estimate $1,600 - $2,000). He's a good and unassuming guy who wants to feel better and be loved. We'd like to give him the best chance possible. Please help us raise the funds needed to get Grady well and adopted.